Even though I had quite a few cavities growing up, I remember always really enjoying going to my dental appointments. My dentist was good at his job and always made the visit fun, including giving me a prize afterward. I think those visits to the dentist's office when I was a kid are what started me down the path to becoming a dentist myself.
That said, though, I wasn't really sure what I wanted to do for my career until I was part of the way through college. I knew I wanted to work in the healthcare field, because I saw it as a career path where I could tangibly help people. At the same time, I was also interested in one day running my own business. I liked the idea of working for myself and the autonomy that would provide. Many dentists have their own clinics, so I figured becoming a dentist would be a great way to help people through improving their health as well as run my own business. I started my own dental office at the end of 2019, but after the COVID-19 pandemic swept through the country, joining up with another dental office became a better option for doing the work I love while providing for my family. So, I'm happy to be a part of the Custom Dental team and continue to meet new patients!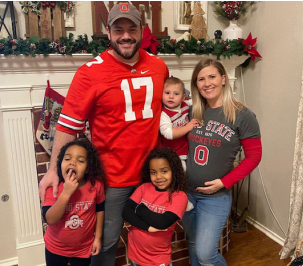 Outside of the office, I'm a father of four children, including two 6-year-old twins, a toddler, and a baby who's just a few months old now. Between helping my wife take care of the kids, spending time with them, and working, it doesn't leave a lot of time for many other activities. However, I do get a chance to play hockey on the weekends with an adult hockey league, so that's pretty fun!